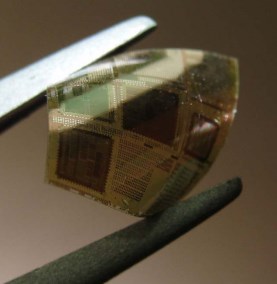 American Semiconductors' FleX™ Silicon-on-Polymer™ is a revolutionary substrate conversion process that provides flexible ICs and fully flexible wafers. FleX enables the next generation of flexible electronics and Flexible Hybrid Systems.
The FleX-MCU is an 8-bit RISC microcontroller with 8KB embedded RAM operating at up to 20MHz with a 1.2V core and 2.5V I/O. It includes multiple serial interface peripherals, including UART, I2C, and SPI.
There's a video towards the bottom of the FleX page.